Common Foot and Ankle Conditions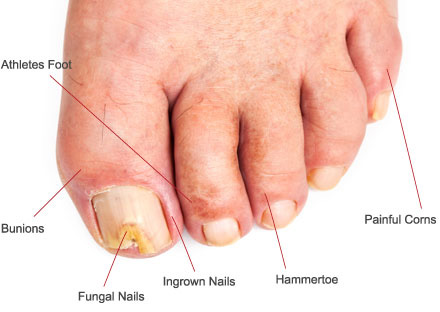 If you have a foot or ankle problem, you are not feeling the pain alone. Four out of every five Americans eventually suffer some sort of foot problem. These problems can eventually cause pain throughout the skeletal structure, and manifest themselves as pain in the knee, hip or back.
Many of these problems are preventable through proper foot care and regular visits with Country Foot Care. We can provide you with the correct form of foot care, proper footwear and the early recognition of foot conditions.
Click here to visit our Clinical Video Library.
Accuracy in identifying your conditions is the key to getting the very best treatment for your foot and ankle problems. It's hard to treat a painful issue in your lower limbs when you don't know what is damaged or contributing to your discomfort. That is why Country Foot Care uses the best in cutting-edge technology for our diagnostic services to help our team understand and be able to treat your feet.
It's important for people with diabetes to be diligent when it comes to their foot health. Many diabetic foot problems are caused by vascular and neurological problems.
Fungal toenails are more common than you think. There are many different treatments for fungal toenails, however some are more effective than others.
It doesn't matter if you are a professional athlete or a weekend warrior, sports can cause a lot of stress on your lower limbs! Did you know the feet and ankles are the most vulnerable to athletic injuries?
There are many causes of heel pain. Whether you're suffering from plantar fasciitis, Achilles tendonitis, arthritis or cracked heels, we can help.
Ankle pain can cause you chronic pain and limit your mobility. From sprains to ankle arthritis, we can treat it all!
The bones in your feet provide the base for your entire body weight when you stand, walk or run. When there's a problem with the bones in your feet, if affects your overall health.